Please consider donating at our Blood Drive. Units donated are counted towards scholaships that are awarded to our Seniors at Graduation. If you need help registering, please contact Mrs. Paulson at
paulsonm@prairiehome.k12.mo.us
or call the school office 660-841-5296.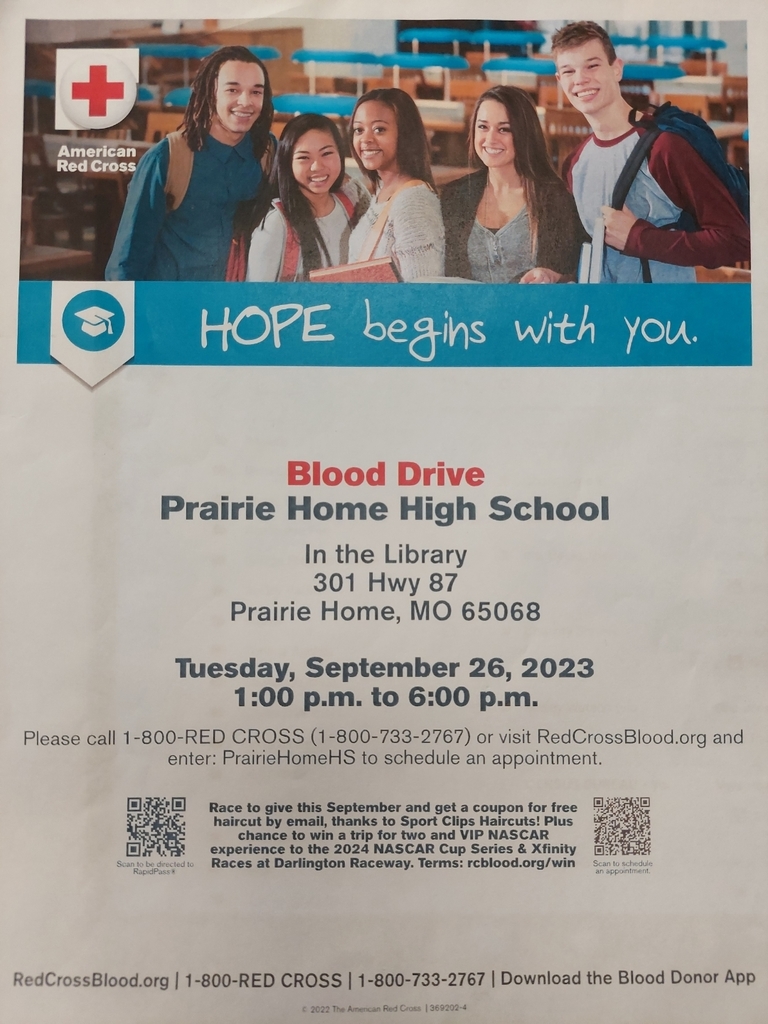 Have you heard your child talk about PBS or Panther P.R.I.D.E. This is our school wide framework for positive behaviors. Please check-out the attached flyers!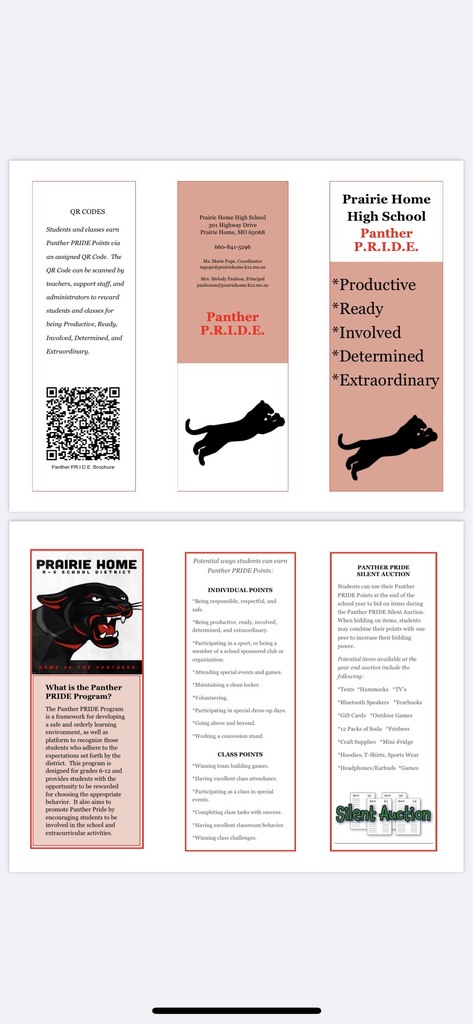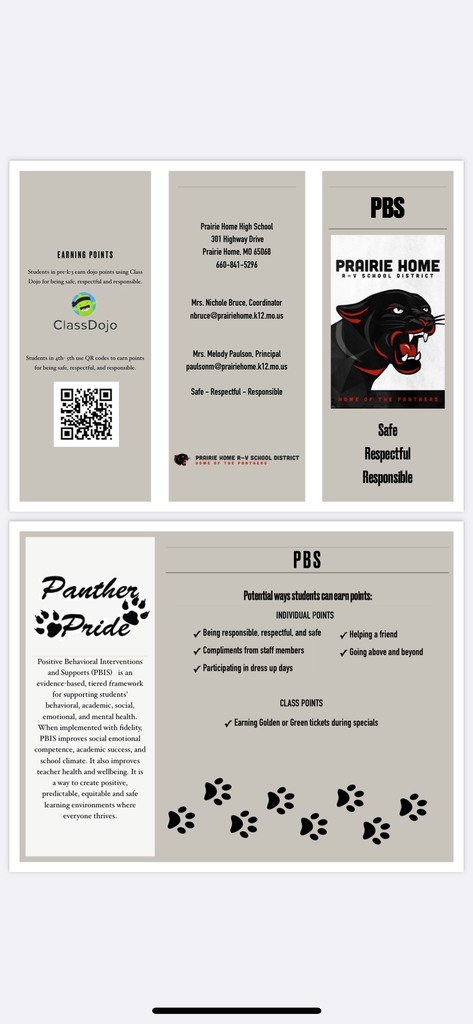 "Let's start the day with some exciting news. We now have our 3rd Book Blast Treasure Chest winner! Congratulations to Bronxton Haywood! We still have one more Treasure Chest stuffed with cash to give away and then the grand prize iPad drawing. If you would like the chance to win, be sure to complete your Treasure Map assignment tonight and send out 15 or more invites to enter the drawing! Best of luck to all of you!"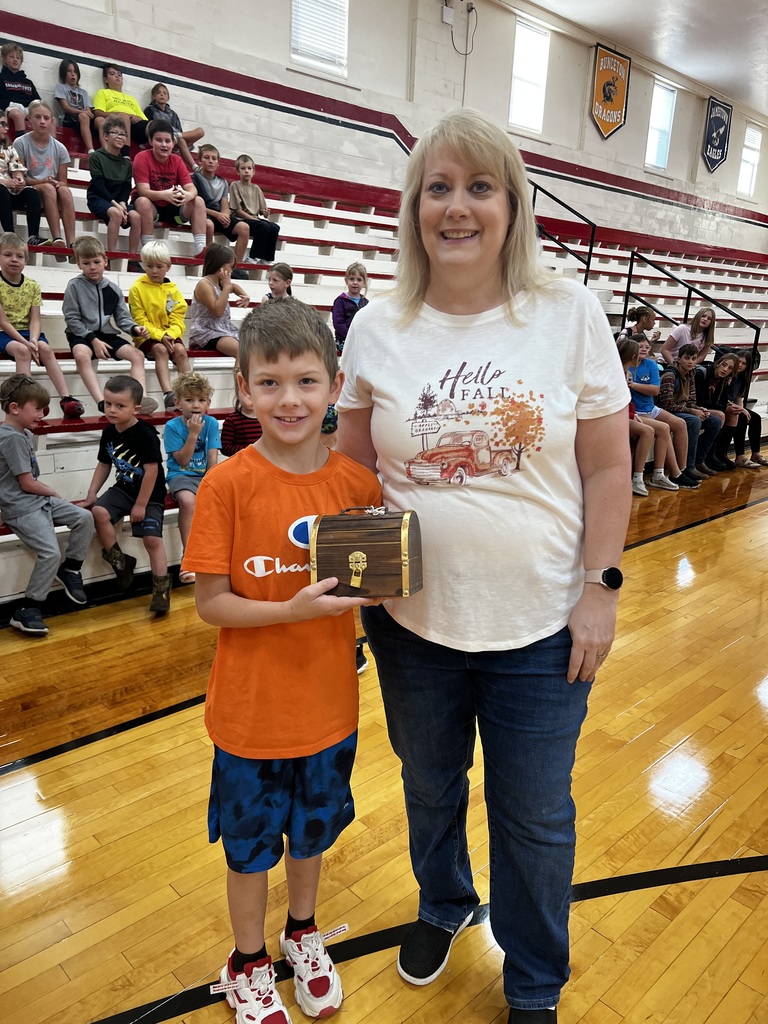 Congratulations, Layton Sells, for being our 2nd Book Blast Treasure Chest winner! Way to go! There is still time to win a Treasure Chest or an iPad by inviting 15+ friends or family members:
http://bookblast.booksarefun.com/PrairieHomeR565068
. Let's keep up the momentum to help build our students' home libraries! If you'd like to support our school and help all our students have access to more books, please donate here:
http://tinyurl.com/PrairieHomeCommunityLink
. Your support truly makes a world of difference in their education!

Dear PRAIRIE HOME R5 SCHOOL Families! In the past 24 hours, so many families answered our call by sending out emails and text messages to friends and family worldwide! We are so excited to see that expanding home libraries and supporting our students is as important to you as it is to us. We know this program can help our school build lifelong readers. The response was so amazing! If you did not have a chance to register and send 10+ invitations to family and friends, you still have time.  CLICK BELOW TO HELP YOUR STUDENTS AND THEIR CLASSMATES:
http://bookblast.booksarefun.com/PrairieHomeR565068
Invite 10+ friends/family and your child/children will receive the 3 fun rewards. Invite 15+ friends and family and your child/children will be entered into the remaining prize drawings. There's still time to help!  It's never too late to make a difference. Success Tip: 1. First, register and invite friends/family. -Don't forget to add 15+ invitations so that your child has a chance to win a Treasure Chest or even an iPad! 2. Then, post your student's personal link to social media. Sincerely, Mrs. Paulson

Check point achieved! The 1st winner of the Book Blast Treasure Chest is Josie Taylor! Congratulations! Now, more treasure awaits ahead…. If you haven't yet, register and enter contact info for 15+ people to support your adventurer's home library and for the chance to unlock the next Treasure Chest prize: 
http://bookblast.booksarefun.com/PrairieHomeR565068
.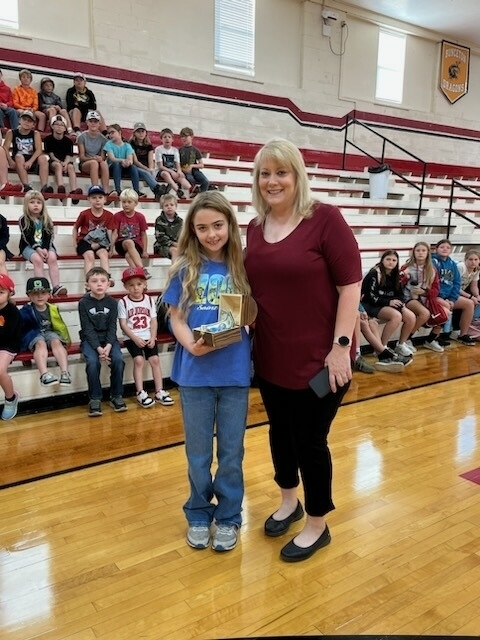 MO HS Baseball: BPH Baseball takes a loss to New Franklin 3-15 in 5 innings. JV falls to New Franklin 1-4. They boys are back in action for a V/JV DH VS Crocker tomorrow at 5:30 PM

Dear Community Members, My name is Melody Paulson, and I am the Principal at PRAIRIE HOME RV SCHOOL. We are launching a Book Blast literacy initiative on 9/12/2023, and the goal of the event is to get as many new, age-appropriate books as possible into the hands of our students. Our children deserve the opportunity to have more books at home to develop strong literacy skills such as vocabulary, spelling, and reading comprehension, which can lead to more effective communication skills as they become adults. As someone who manages a business and works with people daily, I'm sure you understand just how important these skills are in the development of our students. The Book Blast provides an opportunity for you and others in our community to help build up the home library of each student at our school and to help our school receive new books and educational resources. Every dollar you contribute will go toward books and educational supplies for our students and staff! Know that whether you contribute $10 or $100, you are making an impact in the lives of our students. Here's how you can contribute to our Book Blast: · Contribute online at
http://tinyurl.com/PrairieHomeCommunityLink
· Or send a check made out to: Books Are Fun Book Blast PRAIRIE HOME R5 SCHOOL 301 HIGHWAY DR PRAIRIE HOME MO 65068-2333 Thank you in advance for your contribution. It means so much to our school and our community to have your support! Sincerely, Mrs. Paulson

Dear PRAIRIE HOME R5 SCHOOL Families, Exciting news! We have partnered with Books Are Fun and their Book Blast program to help build our students' home libraries. For over 30 years, Books Are Fun has been a trusted partner in promoting literacy. Today our students learned about the Book Blast Program and the importance of having their own books at home. Tonight, we ask you to take 7 minutes to help build your child's home library. CLICK BELOW TO HELP YOUR STUDENTS AND THEIR CLASSMATES:
http://bookblast.booksarefun.com/PrairieHomeR565068
Registration steps: - Click the link above or scan the QR code on the Treasure Map. - Register & Invite 10+ friends/family members who would like to support your child's love of books. - The first 20 students to participate will receive their rewards tomorrow! Don't worry, if your student is not one of the first 20, they will receive their 3 rewards at the end of the event. - To enter your child into the drawings for one of 4 Treasure Chests or for the iPad that will be given away during the first week of the event, invite 15+ friends/family members during registration. Why I love this program: · It's guaranteed to put new, age-appropriate books into the hands of every student! · 100% of all contributions go toward new books and classroom supplies. Books will be delivered to the school a few weeks after the event ends. · The booklist is fantastic! It's on the attached Treasure Map; check it out. · Registering your child/children will take you about 7 minutes. There is NO financial requirement from you. · All the information you provide is secure and only used for this program. More books in your homes equals more pages being read! That's the goal. We're hoping for 100% participation. Thank you for helping our students and our school!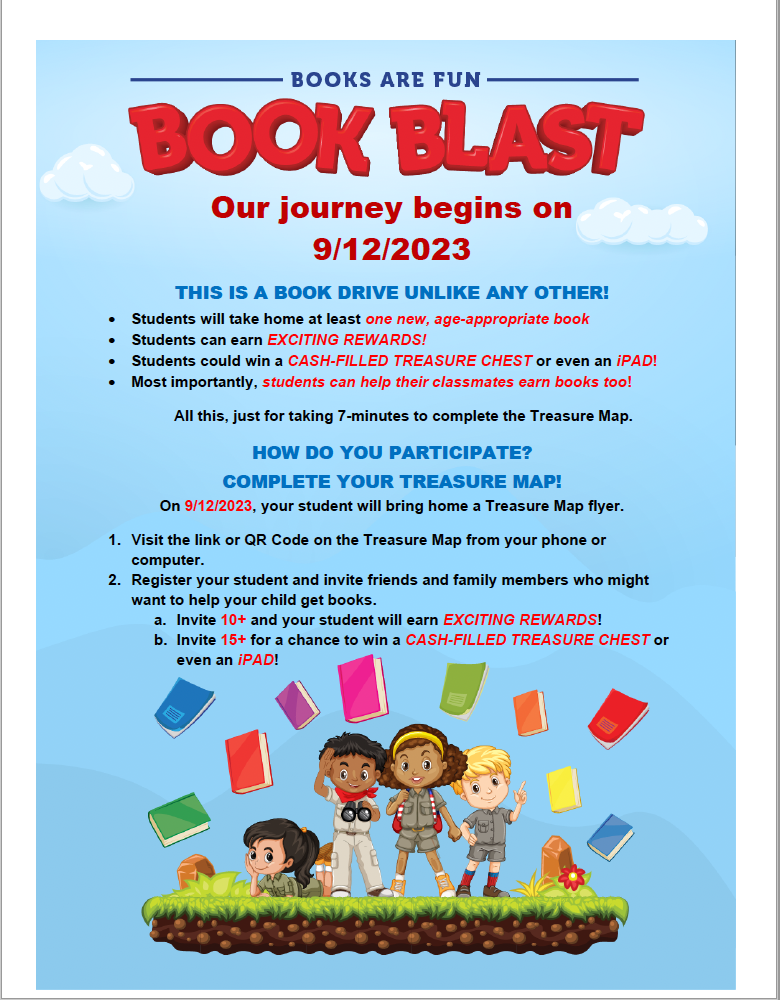 The baseball and softball games for tonight have been cancelled due to wet conditions. there will be no softball practice today. JH Basketball and Cheer will leave for Bunceton at 3:30 and the bus will return after practice instead of having to wait for the softball game to return. If you have any questions please contact your coaches or Coach Ray.

Did you know that your student (grades 6-12) receives a Weekly Progress Report? This report informs you of their current grade and missing assignments. It is provided every Monday (or first day of the school week if there is no school). Also, this Progress Report can be signed and returned by Friday morning for extra credit in some classes.

Here are this week's activities: Monday 9/11: Baseball VS New Bloomfield 5:30 PM Softball VS Eldon @ Bunceton 5:30 PM Tuesday 9/12: Baseball VS New Franklin 5:30 PM Softball @ Russellville 6:15 PM Wednesday 9/13: Baseball VS Crocker 5:30 PM Softball VS Vienna @ Bunceton 5:30 PM Thursday 9/14: Softball @ New Franklin 5 PM Saturday 9/16 Cross Country @ New Franklin 8:30 AM

One of the many upgrades the school is undergoing thanks to our school safety grant is electronic access control on our exterior doors. If you have events/meetings that you need the school building for or practices that will use the gym, please coordinate these times with the office or Coach Ray for all athletic uses. This will allow us to have the breezeway doors unlocked during those times, and then the system will automatically lock down as well after the event is scheduled to be over. The key box has been removed, so please schedule your events and alert us of any cancellations. Thank you for helping keep our facilities safe and secure! (If your event is already on the district calendar, we have it scheduled in the door system as well.)

Pictures from the Tractor Parade on Friday, September 8th. The best quote came from a Kindergarten student when describing his favorite - "My favorite one is the tractor one!"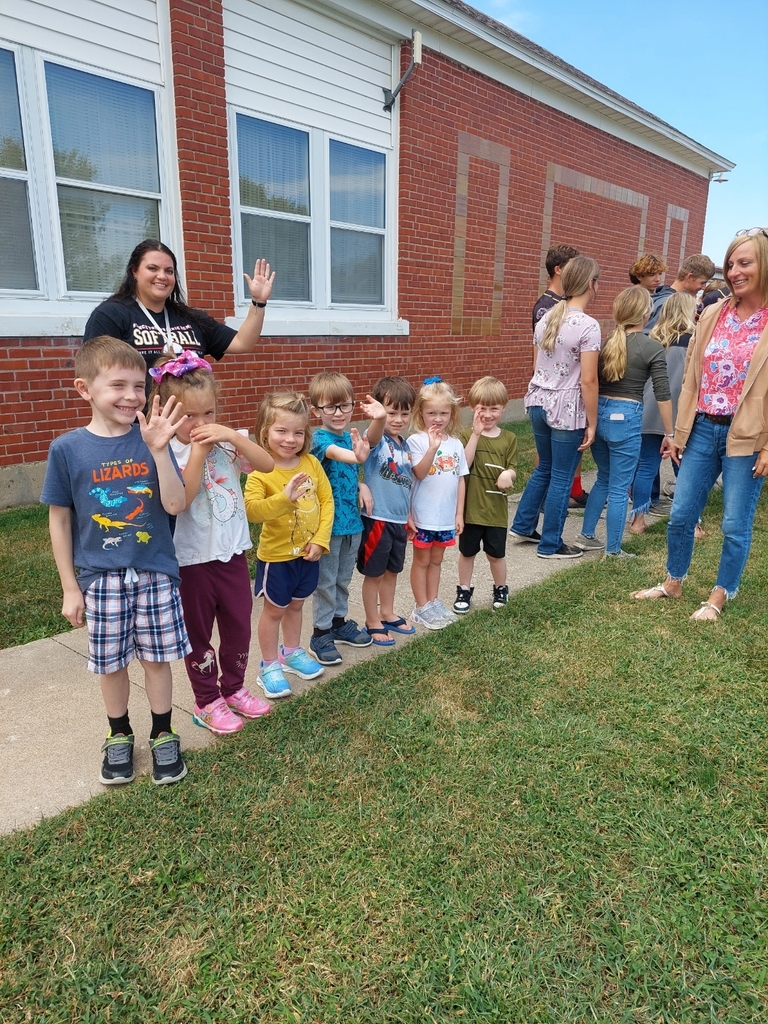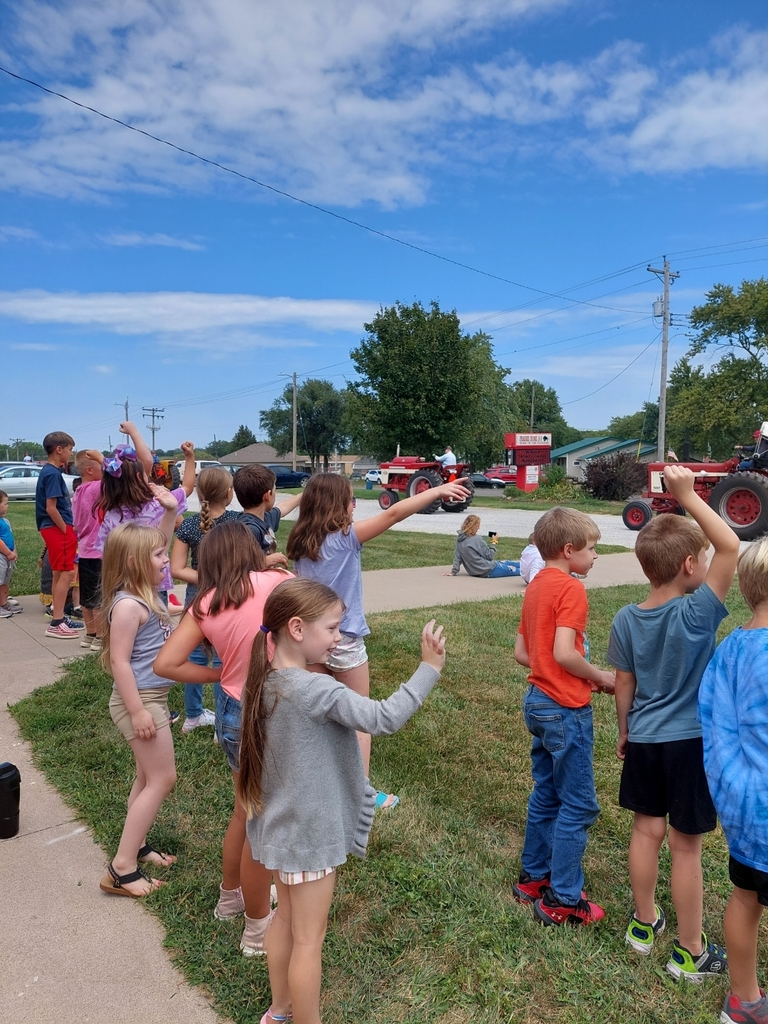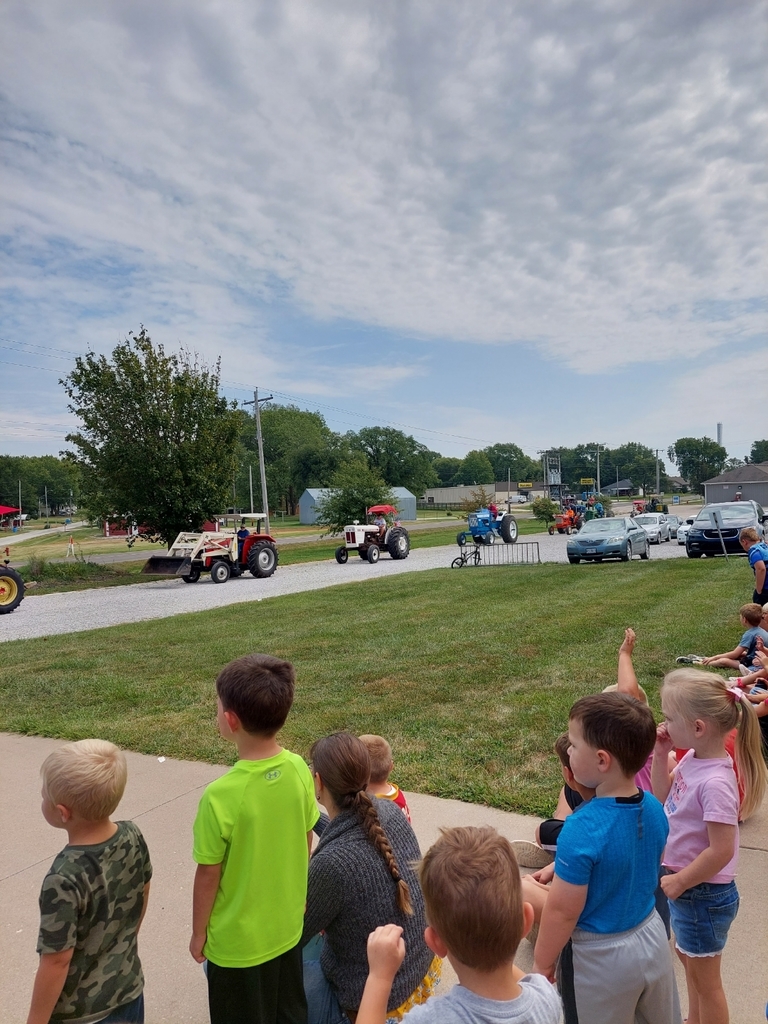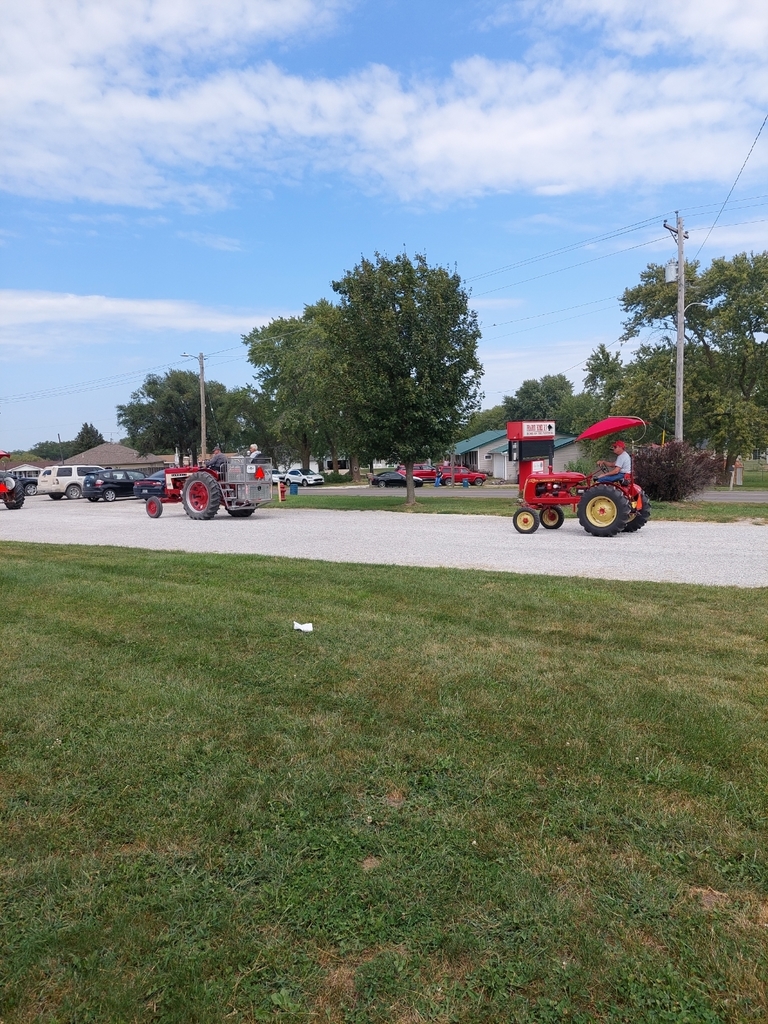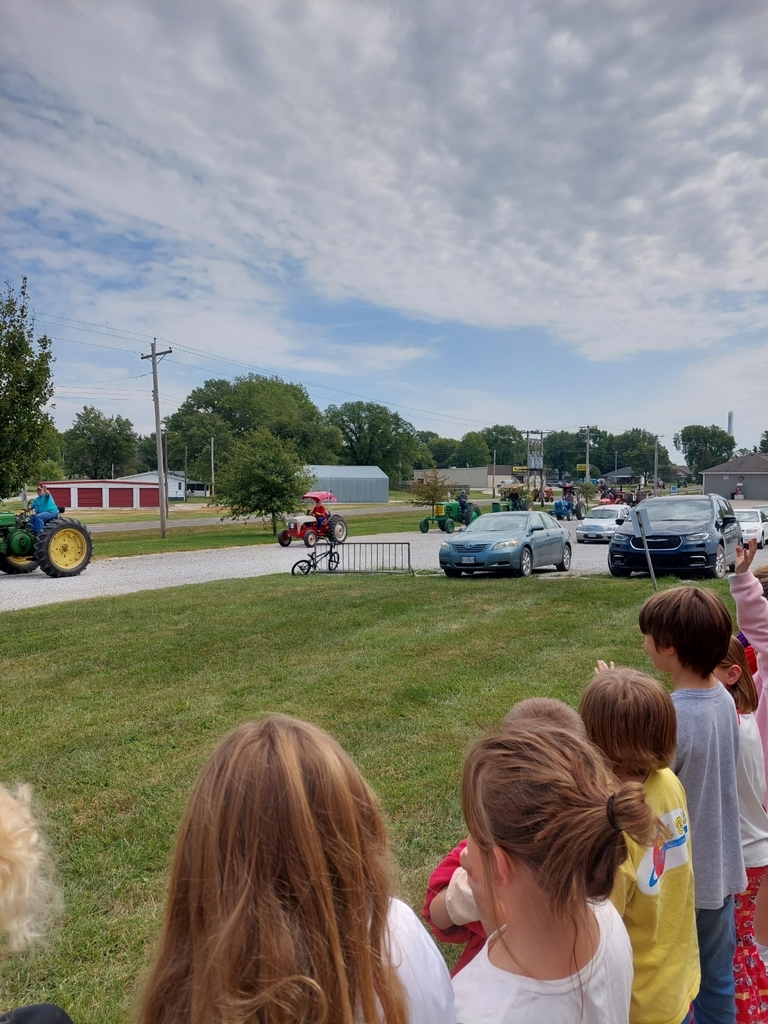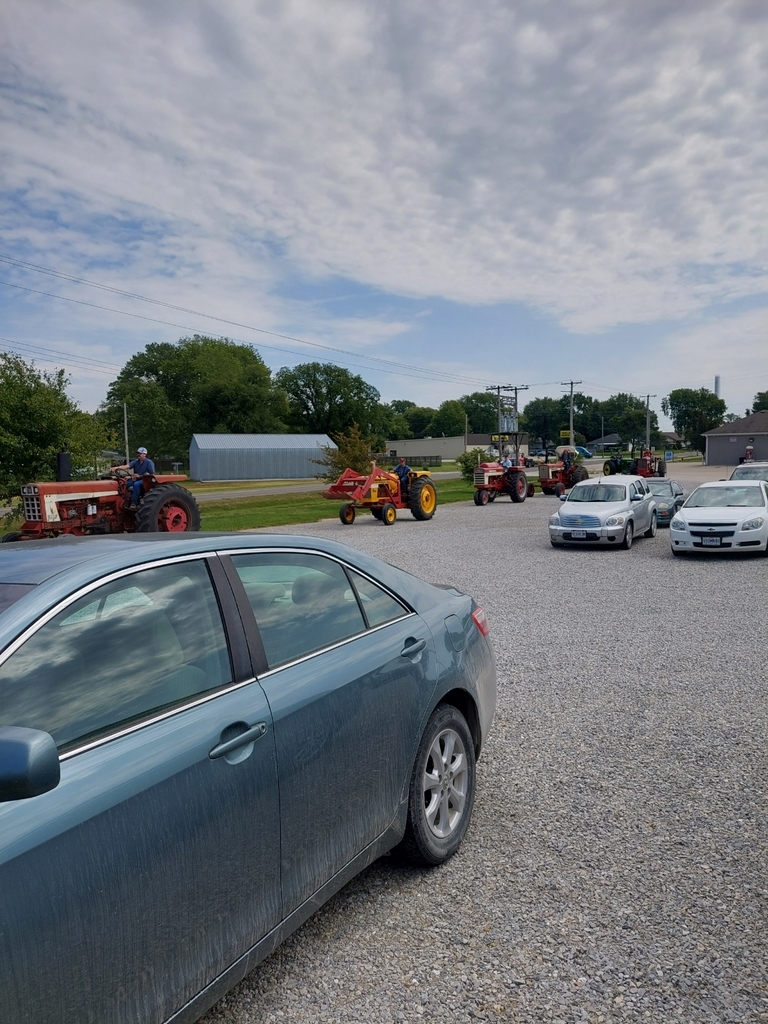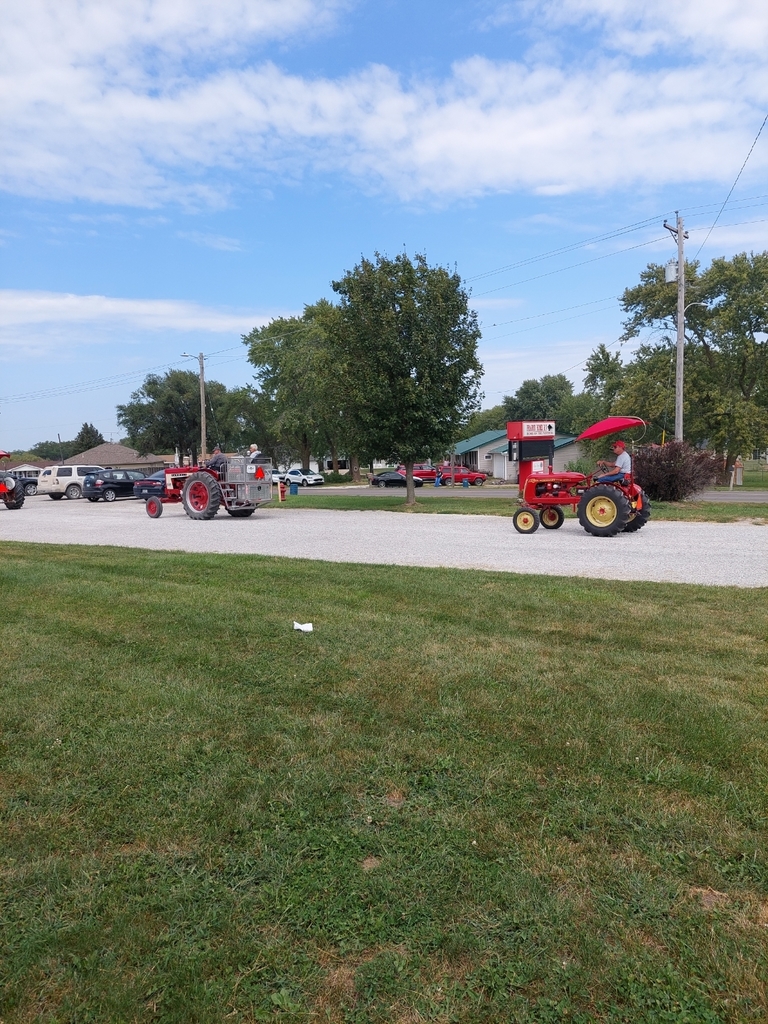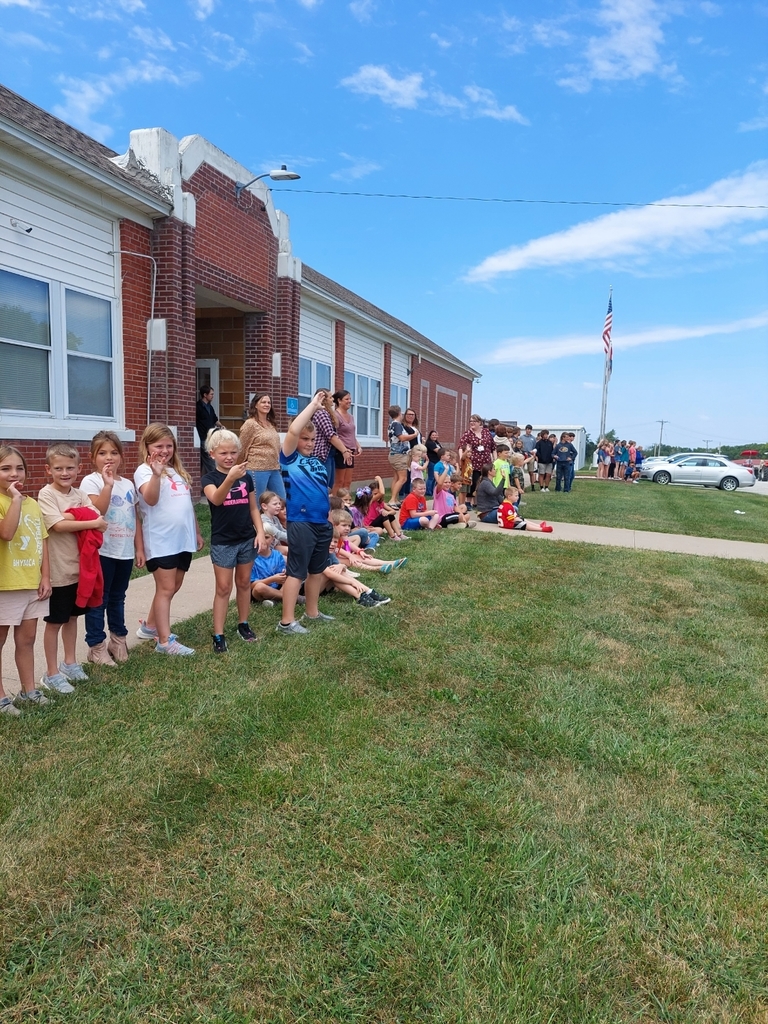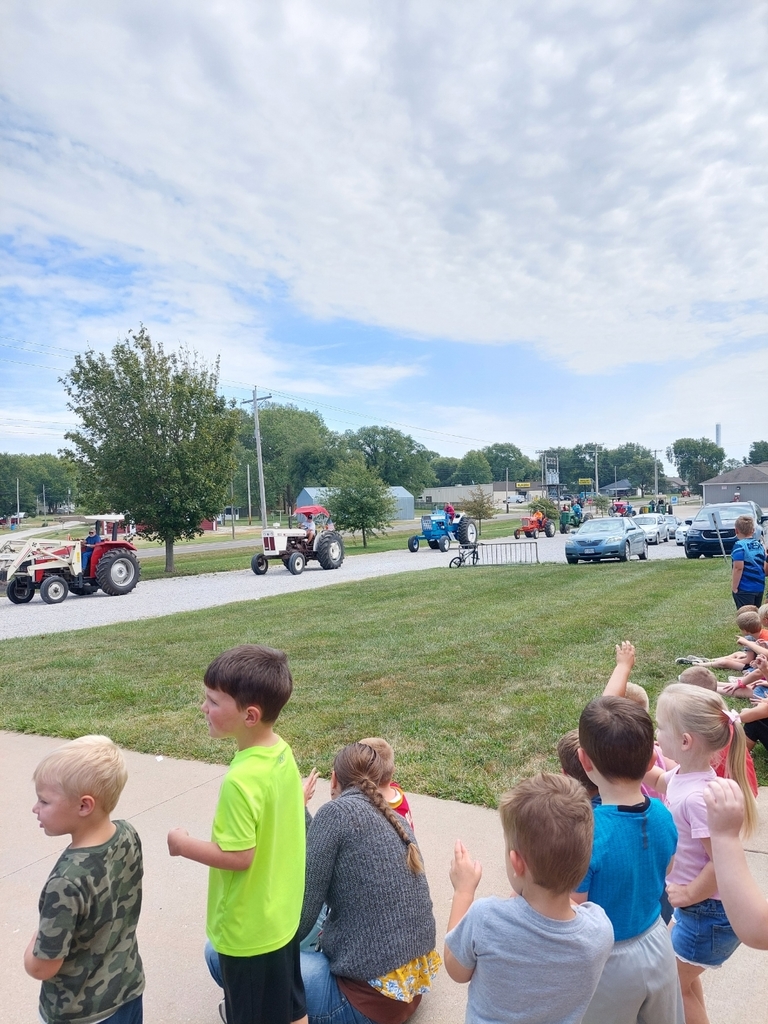 Fantastic day of racing at the Father Tolton CXC meet! Congratulations to Cooper Brown for setting a new 5k school record!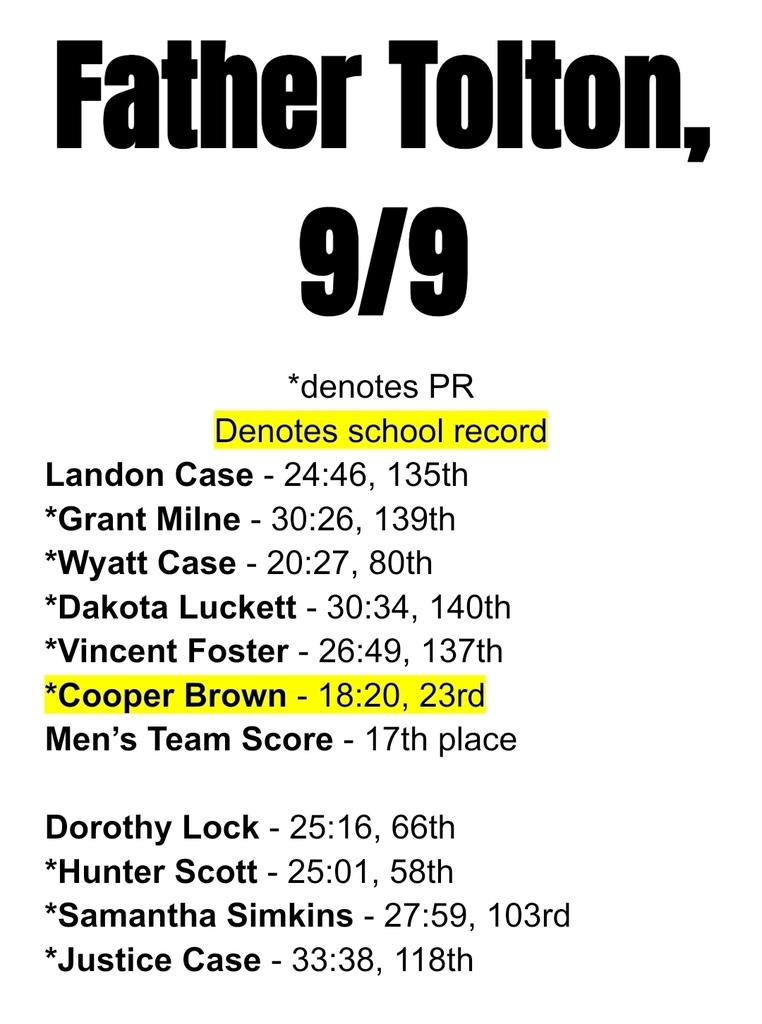 Next week JH basketball/Cheer practice will be at Bunceton. Transportation will be provided via bus for them to and from Bunceton. On Monday and Wednesday, softball will be playing in Bunceton as well. The JH teams will ride the bus over with the Softball team and have the option to stay and watch the softball game to ride back, or have a parent pick them up from Bunceton after their practice is complete. If they are leaving with a parent, they will need to sign out with their coaches before leaving. Coaches will be sending this message out in their group chats as well. Please reach out to the coaches or to the school with any questions regarding this plan.
CXC @ Vienna on 9/6. Congratulations to Cooper Brown and Hunter Scott on earning our first medals of the season!

MO HS Baseball: BPH Baseball team loses to New Bloomfield 8-10. JV loses 3-1 on a game called early due to lightning.